Two truckers — one in West Virginia and one in Iowa — led authorities in those states on chases along interstate highways this week. Both were arrested, including one who had to be subdued by police using a stun gun.
This morning, Iowa State Police arrested an as of yet unidentified trucker who led them on a 15-mile chase that ended in Des Moines.
The Des Moines Register reports an Iowa trooper was writing citations to a trucker stopped on Interstate 80 at about 6:30 a.m. when the driver got back in his truck and took off. Troopers gave chase and the trucker stopped just before reaching tire-puncturing stop sticks deployed by police.
During the course of making the arrest, police are said to have used a stun gun several times to subdue the driver as he resisted. The trucker was taken to a hospital to be checked.
Meanwhile, in West Virginia …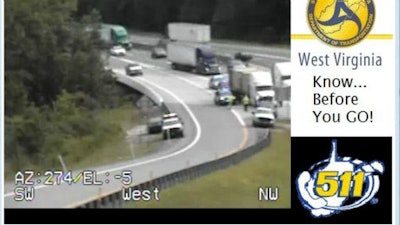 An Alabama truck driver was arrested Tuesday, July 30, after he refused to pay a toll and led police on a chase.
West Virginia State Police say 37-year-old Maurice Loyd, a tractor-trailer driver from Alabama, was arrested following a police chase after he refused to pay a toll on the West Virginia Turnpike (Interstate 77) and drove off.
After speaking with a trooper, Loyd is said to have gotten back in his truck and drove off. He was pursued by the troopers for about 20 miles before he stopped near mile marker 74 and surrendered to police. He was charged with obstructing, fleeing in a motor vehicle and fingerprint refusal.
Police did not say how much the toll was or why Loyd didn't want to pay it, according to media reports.