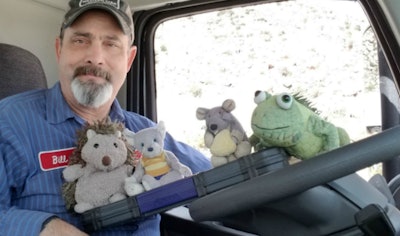 One of three drivers will be $10,000 richer if they win the grand prize in Pilot Flying J's 6th Annual Road Warrior contest. Voting is open through Monday, Aug. 19 at 7:59 aa.m. EDT.
The three finalists are:
Timothy Chelette of Murfreesboro, Tennessee
William McNamee of Christopher, Illinois
Rodney Hagan of Webster, Florida
The second and third place recipients will receive $5,000 and $2,500, respectively. Nominators of the three finalists receive $500.
Votes can be cast for nominees here.
Chelette joined the Big G Express team 15 years ago. In addition to his driving, he helped raise more than $30,000 for St. Jude Children's Research Hospital through an annual community motorcycle ride. He is also an American Road Team Captain and is a member of the Christian Motorcycle Association, serving as the president of his chapter for the last five years.
McNamee has been a professional truck driver for 28 years, currently working for Carbon Express. He has been a Trucker Buddy for 22 years – teaching young students about the trucking industry while on the road. McNamee is an American Road Team Captain and was a finalist for this year's National Tank Truck Carriers' Professional Driver of the Year Award. He also took third place in the 2019 Illinois Truck Driving Championship in the Tank Division. Before entering the trucking industry, McNamee served in the Marines.
Hagan entered the trucking industry in April 2016. Since then, he has been adamant about supporting and bettering his family, specifically his son, Jahmar, who is autistic. He consistently puts 30 percent of his net income into an account for Jahmar so that he can be taken care of in the future. In his short career as a professional truck driver, Rodney has received several awards for safe driving, outstanding work conduct and miles driven. He's also passed every inspection from DOT and local law enforcement. Hagan drives for Venture Logistics-Transcorr in Indianapolis.