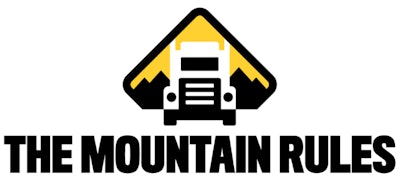 In April, a tractor-trailer traveling on a downgrade on Interstate 70 near Denver is said to have lost its brakes and slammed into a long line of traffic stopped for a previous accident. Four people died and four more were injured and a total of 29 vehicles were involved. The 23-year-old driver now faces some 40 criminal charges.
A new program announced Friday could help lessen the chances of more accidents like that in the future not just on that stretch of I-70 but, but throughout Colorado's mountains.
The Colorado Department of Transportation, in partnership with the Colorado State Patrol, Colorado Motor Carriers Association, and in-cab driver alert providers, PrePass Safety Alliance, and Drivewyze Friday announced a program designed to improve safety for truckers driving through the mountains.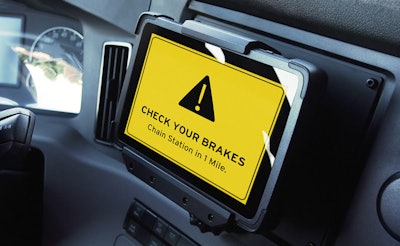 The Mountain Rules is meant to educate carriers and drivers about the challenges of driving in Colorado's mountains. It includes some highway improvements, information about potential hazards, and an in-cab electronic alert system.
"It's no secret that our mountains create immense challenges for semi-truck drivers," said CDOT Executive Director Shoshana Lew during Friday's announcement."The Mountain Rules has a simple mission — get everyone home safely – and this campaign, which supports CDOT's Whole Safety – Whole System initiative, is a major step towards achieving that goal."
In addition to an educational effort, The Mountain Rules consists of infrastructure and informational improvements, including:
Signs on eastbound Interstate 70 and all eastbound chain stations, east of the Eisenhower/Johnson Tunnels, with information on the brake check locations for truckers.
Restriping the wide eastbound exit ramp at the Genesee Park Interchange into a more-defined short-term truck parking area where drivers whose trucks have overheated brakes can cool down and check equipment before making the final descent into the Golden area.
A new subscription-based, in-cab alert system, warning truck drivers about specific areas where brake failures could occur, and the location of brake check and runaway truck ramps.
Information gathering on the feasibility of a new ramp and other measures to mitigate runaway trucks, such as geometric and signage improvements to the existing Mount Vernon Canyon Truck Runaway Ramp.
"I want to dispel any misconceptions, myths or rumors about truck ramps for all commercial carriers who travel our mountain corridors," said CSP Colonel Matthew Packard Friday. "Commercial carriers will not be cited by law enforcement for using truck ramps. Should your brakes fail, please save lives, and use the ramps."
The I-70 Mountain Corridor will be the initial pilot for The Mountain Rules. CDOT then will expand the program to other locations.
"Our mountains, and the highways winding through them provide some of the greatest vistas in the world and make Colorado special," said CMCA Chairman Jim Coleman. "These same roadways, such as I-70, pose a particular challenge for truck drivers and truck brakes, with long and steep downgrades of up to seven percent. This outreach effort and program will go a long way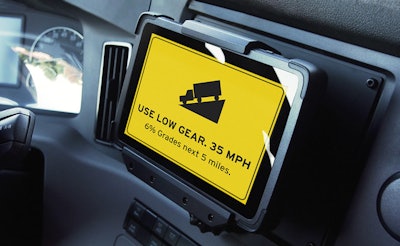 in educating truck drivers on how to navigate through our mountains, which will enhance safety for all highway users."
Drivewyze, provider of PreClear weigh station bypass services, is now offering mountain corridor safety alerts. The new service is free to current Drivewyze customers.
With the alerts, Drivewyze subscribers' drivers receive in-cab alerts of upcoming safe locations to pull over to check their brakes, and also see prompts to gear low while showing suggested maximum speeds down steep grades. It will also alert drivers of upcoming runaway ramps. (See photos)
Colorado is Drivewyze's first state in the new alert program. Seven Colorado mountain passes are part of the Drivewyze Safety Notifications package. In addition to I-70, Drivewyze is providing alerts for Rabbit Ears Pass, Loveland Pass, Monarch Pass, Slickrock Pass, Wolf Creek Pass, and Coal Bank Pass.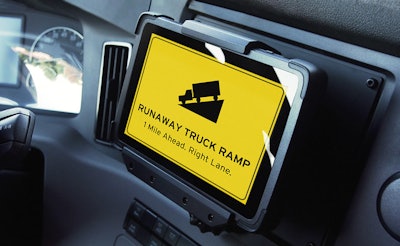 Drivewyze plans to add alerts for 22 more states by the end of August.
Two other Drivewyze Safety Notifications were introduced last month. Rollover alerts, on targeted exit ramps and curves, are geo-fenced at 500 locations in 32 states, while l,500 low bridge warnings are given to drivers approaching bridges in the U.S. and 300 in Canada.