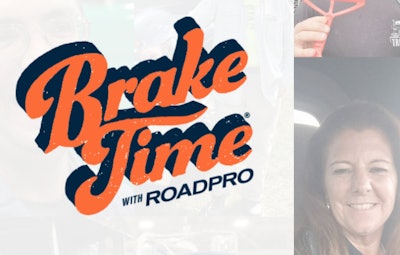 Folks from the RoadPro Family of Brands will be busy at the Great American Trucking Show, which opens in Dallas Thursday.
Not only will they be showing off several new products at their booth (#1533), RoadPro will also introduce Brake Time, its new online trucker community and be at the TA Petro Truck Parking Community.
Brake Time is meant to be a fun, driver-driven, online community for professional truckers. The new community is a gathering place for drivers who have a passion for the industry and its on-the-go lifestyle, according to RoadPro.
Those who join Brake Time before GATS will have access to the Brake Time lounge, a place to relax, have a cool beverage and a snack and enjoy performances by guest musicians. The Brake Time Lounge is located in Lobby A of the Kay Bailey Hutchison Convention Center.
By becoming a member of Brake Time, drivers have the opportunity to connect with other truckers as well as folks from the RoadPro Family of Brands. Members can participate in trucking lifestyle discussions, gain inside knowledge of new products, and receive special offers and opportunities to win free products. There are also fun activities and games that earn members badges, t-shirts, hats and more. Brake Time also keeps members informed of discounts on products and provides them the opportunity to take surveys on new technology, trucking lifestyle and other topics.
To join Brake Time visit www.braketime.com.
RoadPro Family will also launch several new products at its booth at the show. Those who stop by the RoadPro booth will be able to spin the prize wheel giving them the opportunity to win prizes including a MobileSpec neckband headphone, PowerDrive power inverter, the all-new Qi Chargers from RoadKing and MobileSpec or a flashlight from LUMAGEAR.
Drivers that spin the wheel will also receive a RoadPro hat giving them another chance to win. If spotted by a RoadPro ambassador on the show floor while wearing their RoadPro hat, drivers win a gift card to their favorite travel center.
"RoadPro Family of Brands is focused on the lifestyle of truckers and providing products that keep them safe, comfortable and connected while on the road," said Charles White, Vice President of Brands and Marketing for RoadPro Family of Brands. "Each year we look forward to the opportunity to engage with our customers during the show and are excited to introduce them to our Brake Time community designed specifically for the professional driver."
RoadPro is a primary sponsor in truck parking and will once again support the St. Christopher Truckers Relief Fund auction.