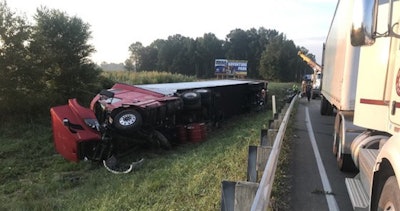 Indiana State Police arrested Kentucky truck driver James Murphy, 56, Monday, Sept. 9 for operating while intoxicated after Murphy ran his 2009 Volvo semi off the road and overturned on Interstate 65N in Jackson County south of Indianapolis.
Murphy's truck, which was pulling an enclosed trailer, left the east side of the roadway, struck a guardrail, and overturned. Police observed that Murphy had been drinking alcohol and showed signs of being intoxicated. They conducted a roadside breath test, which indicated Murphy had a .26% blood alcohol content. Truck drivers are considered to be driving under the influence of alcohol when they have a BAC at or above .04%. Police also collected a blood sample and the toxicology analysis is pending.
Murphy was arrested on charges of operating while intoxicated and operating with a BAC .15% or greater. Murphy was also cited for an open container violation and disregarding a traffic control device.
I-65N was closed for about eight hours for crash investigation and cleanup. Neither Murphy nor an unidentified adult female passenger were injured in the crash.