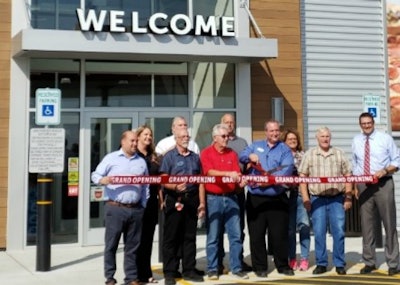 The newest Pilot Flying J Travel Center and Truck Care Service Center opened recently in Marshall, Illinois. It's located off Interstate 70at 104 West Trefz Drive and is Pilot Flying J's 28th location in Illinois.
The new location has:
64 truck parking spaces
eight diesel lanes with high-speed pumps
PJ Fresh pizza and grab-and-go offerings prepared on-site daily, including salads, sandwiches, burgers, fruit cups and an array of hot and cold snacks
Taco Bell
Truck Care Service Center
Five showers
Driver lounge and five shower rooms
Public laundry
Western Union
CAT scale
In August, the company also acquired and re-branded a travel center in Vandalia, Illinois, adding a Denny's restaurant to the Pilot Travel Center located at 10 Interstate Drive.
"We're committed to making a better day for people living, working and traveling through Clark County and across the nation," said Ken Parent, president of Pilot Flying J. "We continue to invest in new stores to bring convenience, quality, great food and amenities to those who are traveling the roadways."