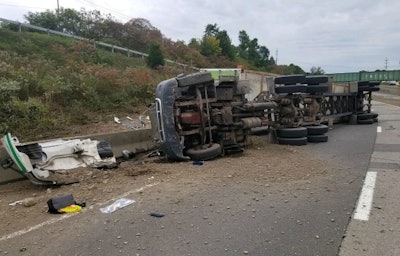 A 52-year-old driver from Pennsylvania died when his tractor-trailer hauling compressed natural gas rolled over on Interstate 88 in New York early Monday morning, Sept. 23. Residents near the crash site were evacuated from their homes as a precaution, though there was no spill.
Authorities identified the trucker as Jeffrey Lind of Hallstead, Pennsylvania. He was driving for Xpress Natural Gas, and pronounced dead at the scene north of Binghamton.
The crash occurred at about 1 a.m. Monday in the eastbound lanes of I-88 near Exit 2.
Witnesses are said to have told police Lind swerved to avoid striking a deer, but struck a barrier dividing the eastbound and westbound lanes. The truck and trailer overturned and slid across the eastbound lanes before coming to rest against a concrete barrier on the right side of the highway.
Residents of about 80 homes near the crash scene were evacuated.
The crash remains under investigation.