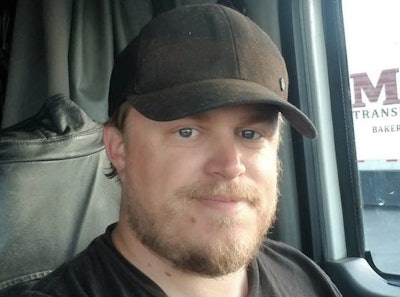 Mercer Transportation Company driver Brian Smith helped save a young girl from a fiery crash in March and is being recognized as a Highway Angel by the Truckload Carriers Association for his heroics.
Smith, a flatbed driver, came upon a collision between two tractor-trailers near Lordsburg, New Mexico, on March 25. One truck had crossed the median and hit the other tractor-trailer head-on, along with a pickup truck. Both trucks were in flames.
Smith pulled over and ran to the pickup, where other motorists were trying to get the pickup's occupants out of the vehicle. Flames from the tractor-trailers were spreading close to the pickup, so Smith grabbed a tow chain from his truck, hooked it to the pickup, and dragged the truck 15-20 feet away from the flames. A 13-year-old girl was then pulled from the pickup's backseat and a Life Flight was called for her. The pickup's other two occupants, the driver and a passenger, both died, as did both truck drivers.
"Because I know there's a chance she survived, she's on my mind," Smith said of the child. "I'll probably never forget her face. It made me think of my own kids."
TCA presented Smith with a Highway Angel certificate, patch, lapel pin and truck decals.