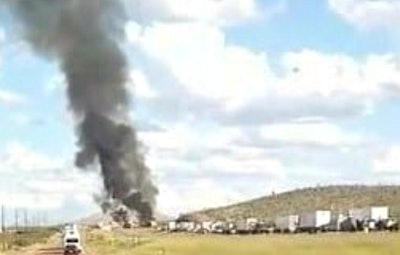 A husband and wife driving team died in a truck fire Friday, Sept. 27 on Interstate 10 in Sierra Blanca southeast of El Paso, Texas.
The Texas Department of Public Safety says 62-year-old Deborah Regan and her passenger and husband 64-year-old Terry Huey of Springtown, Texas were driving a tractor-trailer eastbound on Interstate 10 when they reportedly rear-ended another truck, causing their truck to catch fire. The collision occurred at just before 5 p.m. near the Sierra Blanca border checkpoint.
Estes Express Lines of Dallas told KVIA television that Regan and Huey had driven for the company for 20 years.
The driver of the other truck, who was not identified by police, was taken to a nearby hospital for their injuries.
I-10 was closed for about five hours. The police continue their investigation.