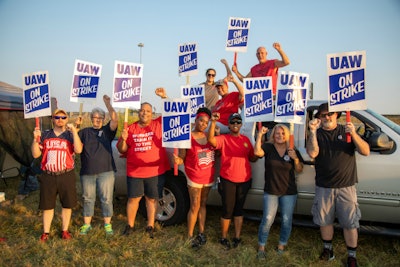 The United Auto Workers strike at General Motors, in which 50,000 GM manufacturing employees halted work Sept. 16, has harmed carriers who serve suppliers and GM plants, forcing some to lay off personnel and severely denting their revenue.
Phoenix Transit and Logistics, for instance, has had to lay off 56 drivers and other office personnel. The 200-truck carrier's operations have all but stopped, says Jason Todd, the fleet's operations coordinator. The strike is costing Phoenix about $100,000 a day in lost revenue, he says, as his trucks sit idle.
What's more, he says, his fleet's trucks were loaded early last week by suppliers, meaning they haven't been able to pick up other loads in the interim to try to make up for the lost GM loads. "We're losing a lot of money, but there's nothing we can do," Todd said earlier this week. "We usually do 300 loads a week of auto parts, racks. But every shipment has stopped."
GM has been firm that they won't reimburse carriers for the lost revenue, nor that they'll pay extra for the loads that have been backlogged, Todd says.
While reports Thursday morning indicated that the UAW and GM have entered into an agreement to end the strike, it's unclear when the deal will be finalized and when the striking GM workers will return to work. The Detrpit Free Press reports, "The UAW and General Motors are far apart on several key issues that could take a week or more to resolve before a tentative agreement is reached, two people familiar with the talks told the Free Press on Thursday."
Even after GM facilities resume operation, the swell of backlogged loads caused by the strike will take weeks to sort out, says Todd, which will likely continue to hamper his and others' operations.
"It's going to take a while to get the pipeline up and running," says Kevin Burch, president of Jet Express and former chairman of the Truckload Carriers Association. Jet Express serves GM suppliers and plants, too. But his fleet is diverse in its customer base, he says, and hasn't been as severely harmed by the strikes as Phoenix.
He notes, however, that the strikes are having a trickle-down effect. They're not only affecting carriers, but truck stops, fuel providers and restaurants that serve those working GM's freight and facilities. Likewise, the suppliers that provide parts to GM supply other companies and industries, too, and the jam-up caused by GM is negatively impacting the supply chain at large. "There are a lot of spin-offs to this," he said. "It affects everybody indirectly."