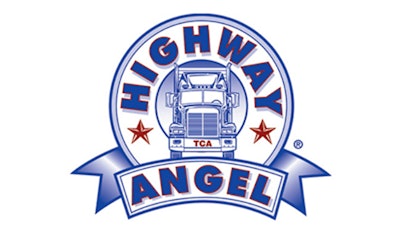 Walmart Transportation driver Robert Wheeler was quick to help at a serious accident scene when an SUV pulled in front of an oncoming commercial van. The Truckload Carriers Association recognizes him as a Highway Angel for his quick thinking and willingness to help.
Wheeler, from Crestwood, Kentucky, was heading south on Highway 135 on Aug. 9 when he saw an SUV pull out of a parking lot and right into the path of an oncoming large commercial van, which had no time to react. The van t-boned the SUV, and Wheeler immediately pulled over to help. He checked on the van driver and the SUV driver. In the SUV an unconscious, injured woman was in the front seat with a crying child in a car seat in the back. Wheeler got the child out of the vehicle and stayed on the scene until help arrived.
Wheeler says that while he's seen a lot of bad accidents during his time as a trucker, this one really bothered him.
"The driver of the SUV simply overlooked the oncoming van. She pulled into his lane and there was no stopping distance. There's nothing the van could do," Wheeler said.
Wheeler was presented with a TCA Highway Angel certificate, patch, lapel pin, and truck decals.