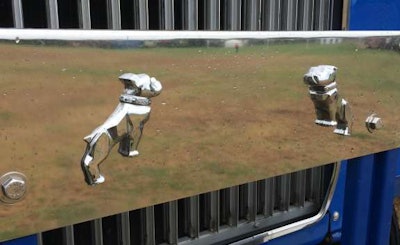 More than 3,600 hourly workers at Mack Truck plants in Pennsylvania, Florida, and Maryland went on strike at 11:59 p.m. Saturday, Oct. 12. The Detroit Free Press reports the United Auto Workers union said the workers seek "fair pay and benefits." Picketing began Sunday morning, Oct. 13.
The UAW's contract with the company expired Oct. 1. A letter posted online by United Auto Workers Local 677 says issues include "wage increases, job security, cost-of-living allowances, wage progression, skilled trades, shift premiums, holiday and work schedules, health and safety, seniority, pension and 401(k) issues, health care and drug coverage, overtime, subcontracting and temporary/supplemental workers."
Mack Trucks President Martin Weissburg Saturday, Oct. 12 issued a statement on the strike:
"We are surprised and disappointed that the UAW decided to strike, rather than to allow our employees to keep building trucks and engines while the parties continued to negotiate. The positive working relationship between local UAW leadership and management at our facilities was clearly in evidence throughout the negotiations, and progress was being made.
"We are committed to the collective bargaining process, and remain confident that we will be able to arrive at an agreement that provides a competitive wage and benefit package for our employees and families, and helps to ensure the company's competitiveness."
The Allentown Morning Call reports this is the first strike for Mack since 1984. Some 9,200 workers stayed out for nine days at that time, according to the newspaper.
Mack has plants in lower Macungie Township, Allentown and Middletown, Pennsylvania; Baltimore and Hagerstown, Maryland, and Jacksonville, Florida.
The Mack strike comes as the UAW's walkout at General Motors plants enters its fifth week.