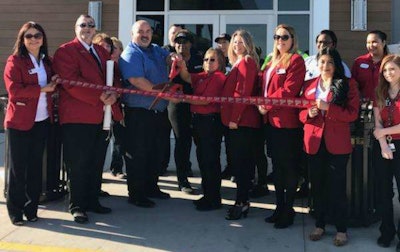 A new Pilot Travel Center opened in Odessa, Texas. this October.
The new facility at 4200 W. Hwy. 302 will be Pilot Flying J's 89th location in Texas. It offers:
15 truck parking spaces
five diesel lanes with high-speed pumps for quicker refueling
PJ Fresh pizza and homestyle meals for breakfast, lunch and dinner. Hot and cold grab-and-go offerings prepared on-site daily, including salads, sandwiches, fruit cups, burritos and snack items
Dunkin Donuts self-serve
Public laundry
three showers
CAT Scale
Two additional travel centers will open in Midland, Texas and Andrews, Texas later this year.
"We're committed to making a better day for people living, working and traveling through Texas and across the nation," said Ken Parent, president of Pilot Flying J. "We continue to invest in new locations to bring convenience, quality, great food and amenities to those who are traveling the roadways. By expanding our network in the Permian Basin, we hope to better serve the exponential growth and rising traffic in the region."