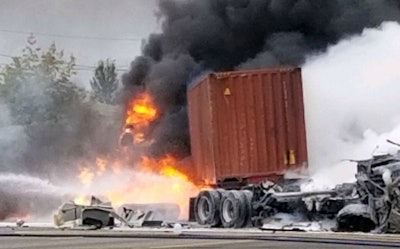 One trucker was seriously injured while two other men escaped unharmed Tuesday, Oct. 15, when their tractor-trailers collided on Interstate 5 in Oregon. The collision occurred at about 4 p.m. in the southbound lanes of I-5 at mile marker 73.
Oregon State Police report the crash happened after Gagandeep Singh, 24, from California, pulled his truck to the southbound shoulder when he noticed there was smoke coming from under his truck. He and Baljit Singh, 38, a passenger in the truck, got out to see the truck was on fire.
Rex Hollopeter, 53, of Salem, Oregon was driving the second tractor-trailer in the right southbound lane and sideswiped Singh's truck. Hollopeter's truck then caught fire, according to police.
The two men in the first truck were uninjured but Hollopeter was flown to a hospital in Portland with what police described as serious injuries.
I-5 was closed for several hours. The police continue their investigation.