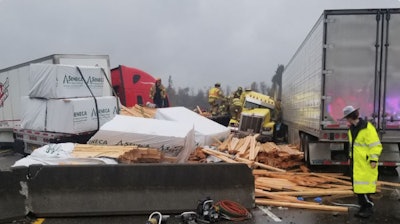 A collision involving four tractor-trailers in Maytown, Washington about 12 miles south of Olympia Monday, Oct. 21, closed Interstate 5 for several hours.
The Washington State Police said the first tractor-trailer, which was northbound, jackknifed and struck the barrier between the lanes. A second semi hit that one, pushing it into the southbound lanes. A third hit the first and a fourth truck went off the road trying to avoid the pileup. Lumber being hauled by one of the trucks spilled across the interstate.
No serious injuries were reported in the pileup that began at about 1 p.m., according to the police.
None of the drivers were identified.
The barrier east-west. It should be north-south. We must replace and remove the lumber before we can reopen all lanes.

Please expect long delays if you must travel between Tumwater and Centralia.
#Maytown pic.twitter.com/BFumZRdLhE

— WSDOT Tacoma Traffic (@wsdot_tacoma) October 21, 2019
Loader on duty to push lumber off I-5 near #Maytown and onto the shoulder. Our priority is to get the roadway reopened. pic.twitter.com/QNV4o4dVAW

— WSDOT Tacoma Traffic (@wsdot_tacoma) October 21, 2019