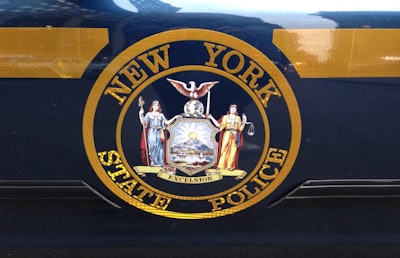 A truck driver was arrested Saturday, Oct. 26, after using a crowbar to destroy the cell phone of a woman and threaten her at a service area on Interstate 90, the New York State Thruway.
The New York State Police said in a statement officers were called to the Indian Castle Service Area about 25 miles east of Utica in response to a man attacking a woman with a crowbar and destroying her cell phone. Troopers said the woman had been traveling on the Thruway in a tractor-trailer being driven by her father when a tractor-trailer driven by Michael E. Severin, 59, of Jordan, New York reportedly almost sideswiped them. As they continued past Severin's tractor-trailer, the woman observed him talking on his cell phone. She photographed him with her cell phone and planned to report his inattention, according to the troopers.
About 60 miles later, the woman and her father entered the Indian Castle Service Area and parked when moments later, Severin pulled his tractor-trailer in front of their truck, blocking them in. The woman was outside of her truck and began recording Severin's actions, when he used a crowbar to swing at her, causing her to drop her phone and retreat to her truck. He then used the crowbar to destroy the cell phone and ran back to his truck after a witness began to yell at him, according to police.
Severin was later stopped on the Thruway about 40 miles east of where the incident occurred and was taken into custody. He was charged with menacing second degree and criminal mischief fourth degree; both Class A misdemeanors.
Severin was issued an appearance ticket to appear in the Town of Danube Court on Nov. 18.