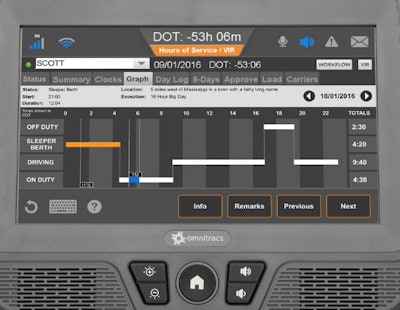 Omnitracs last night said it has restored service to almost all of the users of its in-cab devices and electronic logging devices following a loss of service Saturday night, Nov. 2.
The company's chief operating officer last night wrote most of its users have had service restored and should begin using their electronic devices again. Omnitracs last weekend said truckers needed to use paper logs to track their duty status during the outage.
Ray Greer, CEO of Omnitracs, posted to the company blog at 10:13 p.m. Central Wednesday, Nov. 6:
"I am pleased to report that 99.9% of all active MCP devices are now transmitting messages and logs containing required compliance information. Therefore, Omnitracs recommends all drivers return to electronic logs, as many impacted fleets already have.
"Tonight, we will push an additional update to increase the frequency of communication with the back-office by 2X, which we believe will return performance to pre-event status.
"We are here to assist the exceptional few customers who have not received the updated configuration file with getting this accomplished over the next couple of days.
"We are in regular communication with the FMCSA and will continue to keep them updated."
The company earlier said no fleet data was lost, and that a "GPS rollover event" caused connectivity issues for some devices that began Saturday evening. The connectivity problems caused MCP 200, MCP 110 and MCP 50 devices to go offline, making time and location data unavailable.