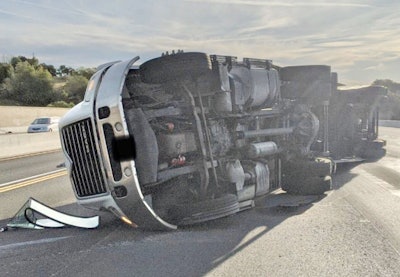 High winds in Southern California Tuesday, Dec. 17, knocked over several tractor-trailers and caused many more to stop alongside one freeway about 50 miles east of Los Angeles.
One truck flipped on its side on the northbound 15 Freeway near Fontana around 7 a.m. One media report said as many as "about a dozen" tractor-trailers were pulled to the side of the 15 freeway to ride out the powerful Santa Ana winds. A truck was reported to have been toppled on the 210 Freeway near Rancho Cucamonga the night of Monday, Dec. 16.
The National Weather Service warned of winds of at least 55 mph and gusts as high as 70 mph.
Drivers, please pay attention on the roads when driving through the mountains and passes today. Quite windy! https://t.co/mRFEPsHe91

— NWS San Diego (@NWSSanDiego) December 17, 2019