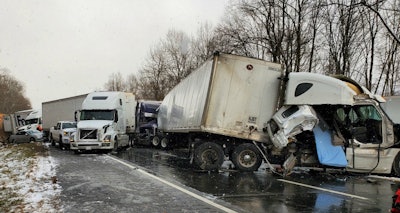 UPDATE: Authorities in Pennsylvania today, Thursday, Dec. 19, said two people died in the 1-80 chain-reaction collisions that occurred on Interstate 80 yesterday.
Accuweather reports the two victims have been identified by the Pennsylvania State Police as Edward Posavec, 53, of Hatfield, Pennsylvania, and Marek Szczepanczyk, 58, of Sterling Heights, Michigan. It did not say if they were truck drivers.
In all, 20 tractor-trailers were involved in the wreck that occurred during snowy conditions.
Our original story:
Multiple tractor-trailers were involved in a massive pileup of at least 20 vehicles in both lanes of Interstate 80 near mile marker 202 in central Pennsylvania Wednesday, Dec. 18, afternoon.
Numerous media reports say at least one person died and 33 people were transported to a nearby hospital following the crash that occurred at about 1:20 p.m. in snow squalls in White Deer Township some 30 miles south of Williamsport.
Westbound I-80 traffic was being detoured via Interstate 180 through Williamsport and then Route 220 back to I-80 at the Lock Haven interchange. Eastbound traffic is being routed in the opposite direction.