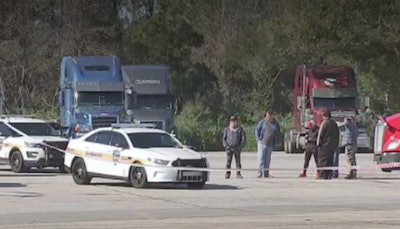 UPDATE: Authorities in Florida have identified the trucker involved in two shootings near Jacksonville, Thursday, Dec. 19 and who they wounded in a shootout on Interstate 10.
According to the Jacksonville Sheriff's Office, Leroy Edwards Jr. is charged second-degree murder and attempted murder in connection with the shooting of two people at the Pilot Travel Center on U.S. 301. Police found Edwards in his truck on I-10 and when they approached, he opened fire. The officers fired back, wounding the 56-year-old Edwards, who worked for a local trucking company.
The man who police say Edwards shot and killed and the man he wounded at the Pilot Travel Center Thursday worked for the same company. Killed at the truck stop was Todd Phillips. Police did not release the name of the man who was wounded.
Without giving specifics, police are labeling the shootings as "workplace violence."
___
Our original story:
Police in Florida continue to investigate a shooting incident involving several truckers that appears to have begun this morning at a truck stop and spilled over onto Interstate 10 in Baldwin, about 20 miles west of Jacksonville.
A shooting reportedly occurred at about 7 a.m. at a Pilot travel center on U.S. 301 leaving one person dead and another wounded. When police arrived, a person believed to be the shooter had already fled in a tractor-trailer. Police found that tractor-trailer stopped along eastbound Interstate 10.
As three Jacksonville County Sherrif's Department officers approached the truck, the driver in it shot at police. They returned fire, wounding the driver, who was transported to a local hospital.
Officer Involved Shooting#JSO Chief Waters provides an update on the officer involved shooting that occurred this morning.

Watch here: https://t.co/HxtpHDr1gS pic.twitter.com/f3NCVQrshL

— Jax Sheriff's Office (@JSOPIO) December 19, 2019
A look at some of the back up on I 10 approaching US 301...I 10 is shut down in both directions at 301 due to Police Activity surrounding a serious injury @ActionNewsJax @WOKVNews pic.twitter.com/rAmJ9HpANh

— First Alert Traffic (@ActionTraffic) December 19, 2019