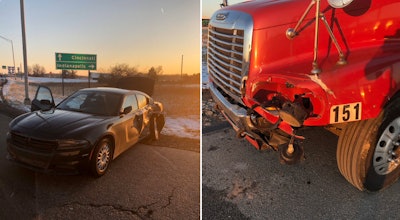 No trucker ever wants to collide with another vehicle on the highway.
That's doubly true if the other vehicle is a cop car.
According to information from Indiana State Police Sgt. Stephen Wheeles, a tractor-triler driver hit Trooper Chris Howell's vehicle just off the New Point exit on Interstate 74 in eastern Decatur County. The trucker reportedly failed to yield and collided with the police car Thursday afternoon, Dec. 19.
There were no serious injuries.
Trooper Chris Howell is a little sore but otherwise ok after his vehicle was struck by a semi that failed to yield to him.

The crash occurred just off the New Point exit of I-74 in eastern Decatur County an hour ago. pic.twitter.com/wJWCS8gfJQ

— Sgt. Stephen Wheeles (@ISPVersailles) December 19, 2019