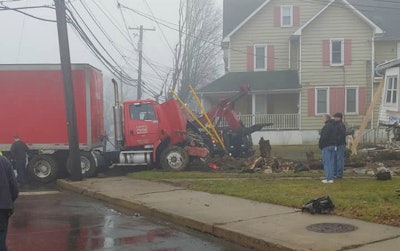 A truck driver had no injuries when his tractor-trailer crashed into the front of a two-family house early Saturday morning, Jan. 4. No one in the house was injured in the crash on a foggy morning in Quakertown, Pennsylvania.
The truck, operated by the Coca-Cola distribution center in Philadelphia, and driven by a veteran trucker, according to the Allentown Morning Call.
The driver is said to have missed a sharp curve before jumping the curb and hitting the front porch of the house at 656 and 658 W. Broad St. The house had to be temporarily condemned.
Quakertown is located about 47 miles north of Philadelphia.