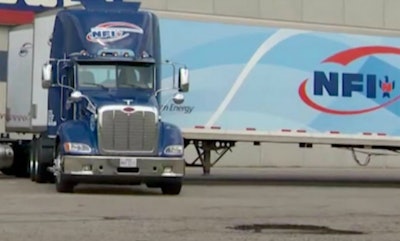 Camden, New Jersey-based NFI Industries earlier his week acquired G&P Trucking Co. Terms of the Monday, Dec. 30, deal were not disclosed.
G&P, which is based Columbia, South Carolina, operates 370 trucks and 3,000 trailers. Their acquisition will boost NFI's fleet to 3,000 tractors and 12,500 trailers.
"G&P is a well-respected, family-owned transportation company with a deep-rooted history, and our shared values of family and integrity create a perfect cultural fit," said Sid Brown, CEO of NFI. "Unifying the talents of both NFI and G&P teams, we are excited to bring even greater value to our customers through our robust suite of solutions. Together, our combined footprint will distinguish us as one of the largest dedicated transportation providers in North America."
The acquisition increases NFI's footprint to over 300 locations throughout North America, employing more than 12,600 associates, according to a statement on NFI's website.
"Powered by the same philosophies as G&P, NFI will allow for greater opportunities for our employees, partners, and customers," said Clifton Parker, president and general manager of 83-year-old G&P. "We look forward to the future and are eager to continue our growth and success with NFI."
J.B. Hunt acquires final mile delivery company
J.B. Hunt Transport Services, Inc.acquired the assets of RDI Last Mile Co. on Tuesday, Dec. 31.
"Growing our final mile delivery capabilities is a priority, and the acquisition of RDI further extends our expertise in furniture delivery," said John Roberts, president and CEO of J.B. Hunt.
Founded in 1987, RDI provides home delivery services of big and bulky products in the Northeast region of the U.S., according to a statement from J.B. Hunt. RDI utilizes contract carriers to perform primarily furniture deliveries and generates annual revenue of $35 million.