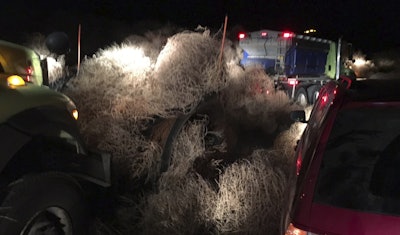 Every trucker who has been driving for any amount of time has had their trip interrupted. Often by traffic congestion, frequently by foul weather, and occasionally by animals with a total disregard for the right of way.
But, at least one trucker had their trip halted by an avalanche of tumbleweeds New Year's Eve. No! Really!
Five cars and a tractor-trailer were trapped on Highway 240 Tuesday, Dec. 31, by a massive pile of tumbleweeds blown across the highway by high winds. The Washington Department of Transportation dispatched two snowplows to clear the pile of foliage estimated to be 900 feet long and 30 feet high. The highway was closed for 10 hours.
The Seattle Times quotes Washington State Patrol Trooper Chris Thorson: "In 20 years on the job, I've never seen anything like this before. We've unofficially dubbed it 'Tumbleggedon 2020.'"
No injuries were reported.
Watch as this @amazon Prime truck loses control in front of me due to extreme high winds on I-25 on the Colorado/Wyoming border moments ago @DenverChannel @Denver7Traffic @abc pic.twitter.com/c8TZcXBrUL

— Daryl Orr (@WxTrackerDaryl) January 1, 2020