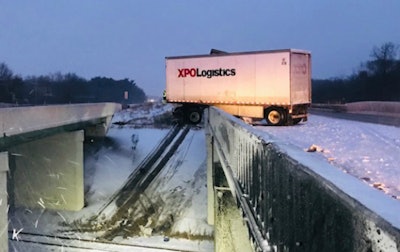 The old year ended in a frightful way for one Illinois truck driver, but he managed to escape with what police say are "only non-life-threatening injuries."
Indiana State Troopers say the 2013 Freightliner under doubles and driven by Jesus Zeigler, 40, of Richton Park, Illinois, crashed near mile marker 102 on the westbound Indiana Toll Road at about 5:30 a.m. Tuesday, Dec. 31.
A statement from the troopers says:
"The Freightliner left the roadway to the left, crashing through a guardrail and striking a concrete barrier wall. The cab of the Freightliner broke free from the double trailers, traveled down the steep embankment, coming to rest on the passenger side on the railroad tracks below. The trailers slid down the concrete barrier wall and came to a rest hanging on the edge of the overpass."
Troopers say Zeigler was able to get out of the semi by climbing out of the windshield. They add Zeigler was wearing his seatbelt at the time of the crash, adding it "likely saved him from serious injuries." Zeigler was taken to Elkhart General Hospital.
The accident remains under investigation.
Trucker dies in crash of West Virginia bridge
A 57-year old trucker from West Virginia died Sunday, Dec. 29, when her tanker left U.S. 50 in north-central West Virginia and crashed into a creek some 200 feet below.
Police told MetroNews.com Rosalynn Russell, 57, lost control of the tanker at around 10:30 a.m. between the Bonds Creek bridges near Ellenboro, which is about 80 miles southwest of Morgantown.
Police say the tanker was loaded with brine at the time of the crash, which remains under investigation.