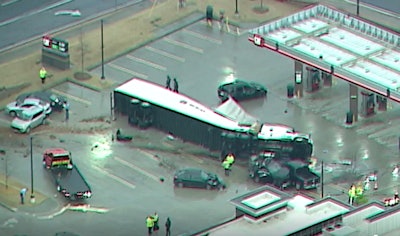 A tractor-trailer loaded with large rolls of paper crashed in Norcross, Georgia Thursday morning, Jan. 2 damaging 10 other vehicles.
The Atlanta Journal-Constitution reports the truck struck two vehicles at a stoplight and eventually overturned in a gas station parking lot at about 7 a.m.
The tractor-trailer was hauling rolls of paper weighing about 5,500 pounds each, according to a police spokesman.
A person in another vehicle was taken to a local hospital.
The investigation into the cause of the accident continues.
WATCH: Truck right-sided after overturning in gas station parking lot; 10 vehicles damaged - https://t.co/BjdbtZusYI #Gwinnett #Norcross pic.twitter.com/8JlXXNNGW0

— John Spink (@johnjspink) January 2, 2020
Overturned tractor trailer on Jimmy Carter Blvd and Brook Hollow Pkwy. We counted 8 cars that got hit by the 18 wheeler. I'm checking with police to see if anyone was injured and what led to this. @wsbtv pic.twitter.com/ykRcttGhZR

— Kristen Holloway (@KHollowayWSB) January 2, 2020