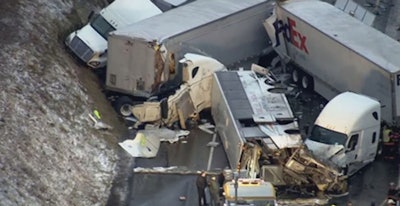 Two truck drivers were among the five people who died in a crash on the Pennsylvania Turnpike in the early morning hours of Sunday, Jan. 5. Both were in one of two UPS tractor-trailers that struck a loaded tour bus that overturned on the turnpike southeast of Pittsburgh.
A third truck and another vehicle also hit the bus, which was on a downhill curve when it struck an embankment and overturned at about 3:30 a.m. The collision occurred in the westbound lanes of the turnpike in Mount Pleasant Township near mile marker 86.
The UPS drivers were identified by the company as 53-year-old Daniel Kepner, who worked with UPS for five years, and 48-year-old Dennis Kehler, who worked with the company for 28 years. A statement from the company said, in part, "Our drivers will be missed and our thoughts and prayers go out to their families."
Also killed in the crash were bus driver Shuang Quing Feng, 58, of Flushing, New York, and two of his passengers, Eileen Zelis Aria, 35, of Bronx, New York and 9-year-old Jaremy Vazquez of Brooklyn, New York, according to the Westmoreland County Coroner.
Some 60 others were injured, many not seriously.
The 52-passenger bus is owned by Z&D Tour Inc. of Rockaway, New Jersey. It was traveling from Rockaway to Cincinnati.
The National Traffic Safety Board, state police and the Turnpike Commission are investigating the crash. NTSB National member Jennifer Homendy said Monday night during a press briefing said she expects the NTSB to be on site for seven to 10 days to collect evidence and investigate. The entire investigation could take as much as 24 months.