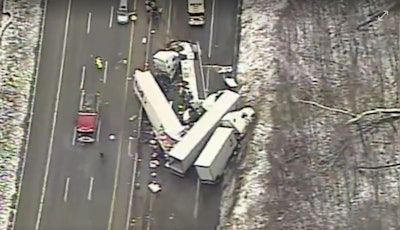 Five people died and as many as 60 were injured in a crash between a tour bus, three tractor-trailers, and another vehicle early Sunday morning on the Pennsylvania Turnpike southeast of Pittsburgh.
The accident occurred at about 3:30 a.m. on the westbound Pennsylvania Turnpike in Mount Pleasant Township near mile marker 86about 40 miles from Pittsburgh, according to numerous reports.
According to pennlive.com, the tour bus was on a downhill curve when it struck an embankment and was then hit by the tractor-trailers behind it.
The crash closed the turnpike in both directions between the Breezewood and New Stanton exits, roughly an 86-mile stretch of roadway.
The crash remains under investigation.
#BREAKING: A multi vehicle crash along I-70 near Smithton in Westmoreland County. #NewsChopper2 over the scene involving 2 tractor trailers, a pickup and a sedan. This scene is just a few miles from major crash on the Turnpike involving a tour bus. @KDKA pic.twitter.com/JoQX5SS3T9

— Ian Smith (@ismithKDKA) January 5, 2020