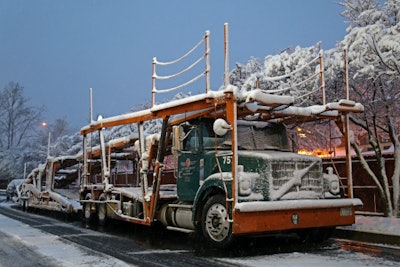 Heads up if you truck through or to the northern tier of states and especially the Northeast: winter is about to stage a comeback.
After several days of record-setting warmth and some modest rain showers, Accuweather forecasts a pair of winter storms are expected to deliver significant snowfalls. To be specific:
the first storm tonight, Wednesday and Thursday is expected to drop a modest amount of snow across New York and New England
the second storm Friday will likely start by spreading snow and a so-called wintery mix from as far west as Denver on into upper Great Lakes, and then delivery the season's heaviest snowfall across Michigan, parts of Canada and all of the Northeast including the Interstate 95 corridor
From 6 inches to a foot of snow is expected from Minneapolis to the New England Coast on the weekend.
Moving south of the snowfall in both storms are mixes of snow and rain and ever further south will be just rain.
About the weekend storm, Accuweather states:
"Motorists with travel plans along the Pennsylvania, New Jersey and Massachusetts turnpikes, as well as the New York Thruway and Southern Tier Expressway and interstates 64, 66, 68, 70, 78, 79, 80, 81, 83, 84, 88, 89, 90, 91, 93 and 95 should be prepared for wintry conditions and travel delays."