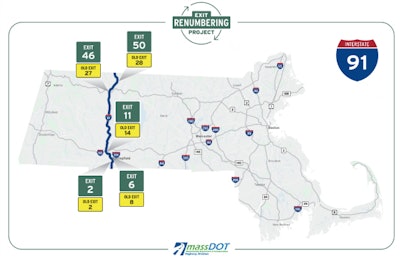 Starting this summer, Massachusetts will begin renumbering exits on interstates and other freeways based on milepost numbers.
The state's Department of Transportation says the new system offers several advantages including:
allows drivers to quickly determine distances to destinations
miles traveled can be calculated more easily
more accurate emergency response
same exit numbering scheme as almost all other states
easier to add future exits without renumbering entire corridor
In addition to new numbers, exits will also have "Old Exit" signs displayed for at least two years, according to MassDOT.
You can see an interactive map detailing existing exits and what their new numbers will be on a website with details about the project, which is expected to cost $2.8. You can also make comments about the program online. MDOT is also holding numerous public meetings to explain the program.