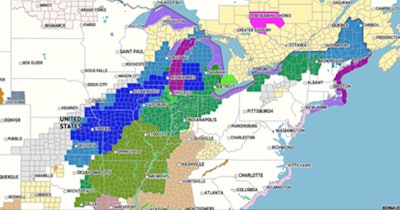 Much of the U.S. faces some type of weather that could make your driving difficult. Depending on where you travel, that could be snow and/or freezing rain or thunderstorms and the possibility of tornadoes.
Accuweather says winter storm warnings/watches are in place for most of the midsection of the country. Severe thunderstorms could cause flooding across much of the South, while the northern edge of that storm could deliver snow — as much as 12 to 18 inches in some locations — and freezing rain from northern Texas to western Michigan today and Saturday.
The greatest risk of 6-12 inches of snowfall will be from the western and upper Great Lakes to southern Ontario, Quebec and into northern Maine.
Accuweather reports: "The snow will come in two waves, with the first batch expected to start in Nebraska, Kansas, and Iowa on Friday before spreading northeastward into Friday night. The second round of snow will start late Friday night and Saturday morning over Oklahoma and southern Kansas before sweeping into part of the mid-Mississippi Valley and upper Great Lakes late Saturday into Sunday.
To make driving especially difficult, freezing rain is expected to blanket the area between the snow to the north and the thunderstorms to the south. That area spreads from northeast Oklahoma up through northern Illinois, across central Michigan and into Ontario, Canada, and northern New England. Expect icing conditions on highway beginning today and lasting overnight and into Saturday.
Severe thunderstorms and the possibility of tornadoes are possible across much of the South.