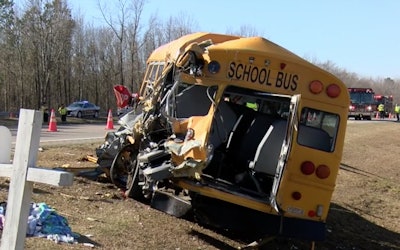 A trucker reaching for his coffee cup is said to have caused an accident Sunday, Jan 5, that killed three people in Indiana, while a driver reportedly reaching for a cigarette is being blamed for a collision Tuesday, Jan. 7, with a stopped school bus in North Carolina. Also on Tuesday, traffic was stopped for hours on Interstate 95 in Maine by a large chain-reaction pileup caused by, of all things, the sun.
Trucker putting down coffee slams into stopped traffic
Two women and a 1-year-old were killed in a nine-vehicle crash and fire Sunday, Jan. 5, on northbound Interstate 65 northwest of Indianapolis. The crash occurred at about 11:05 a.m. near mile marker 129 south of the Zionsville/Whitestown exit.
Tractor-trailer driver Mathew Lewis Small, 34, of Grandville, Michigan, told police he looked away to put his coffee mug down when he ran into traffic that had slowed. The truck hit eight other vehicles.
Mariah Tomey, 21, and Kaylee Kirk, 19, both of Lebanon, Indiana, and 1-year-old Hadley Tomey died in the crash. Fourteen other people were taken to area hospitals for injuries.
Small now faces three preliminary counts of reckless homicide, according to the Indianapolis Star.
Tractor-trailer hits stopped school bus in North Carolina
The driver of a tractor-trailer could face charges after hitting a stopped school bus in North Carolina Tuesday, Jan. 7. The crash on US 74/76 near Delco, North Carolina sent eight children and two adults on the bus to hospitals.
The truck's driver had reached down to pick up a cigarette when saw the bus was stopped, according to Acme-Delco-Riegelwood Fire-Rescue Chief Steve Camlin. The driver tried to swerve but still hit the bus. Another truck behind it also hit the bus, which reportedly rolled over several times.
The drivers of the tractor-trailer and the other truck were uninjured. The unidentified driver of the 18-wheeler could face charges, according to local media reports.
Delco is located about 21 miles northwest of Wilmington, North Carolina.
Bright sun blamed for massive pileup on pileup in Maine
This time of year, large traffic accidents on interstates are usually caused by some combination of ice, snow and wind. But the chain-reaction crash Tuesday, Jan. 7, morning, on Interstate 95 west of Bangor is being blamed on bright sunlight.
The crash began at about 7:45 a.m. near mile marker 174 of northbound I-95 as drivers are said to have been blinded by the bright morning sun. In all, some 30 vehicles crashed, according to Maine State Police.
Eleven people were treated for what are said to have been minor injuries.
Tanker crashes into canal along Florida Turnpike
The driver of a tank truck had to be rescued by first responders Tuesday morning, Jan. 7, when his truck left the Florida Turnpike and crashed into a canal North of Miami. News chopper footage shows the unidentified driver being removed from the cab of his truck by divers and firefighters.
News reports say the tanker struck a car before crashing through a guardrail and into the canal at about 6:54 a.m.
___
David Hollis is editor of Truckers News and can be reached at davidhollis@randallreilly.com