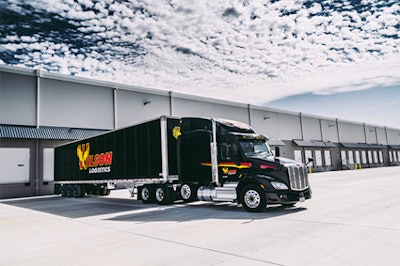 Wilson Logistics recently announced recently Ryan Farrell has been named president and CFO of Wilson Logistics.
Farrell joined the family-owned and operated asset-based carrier as chief financial officer in 2015. A statement from the company said Farrell "has been instrumental in the financial analysis and decision making of four major acquisitions and directly managed and created several key departments."
"It is my pleasure to appoint Ryan Farrell as Wilson Logistics' second company president in its nearly 40-year history", said Darrel Wilson. "Ryan brought an unrelenting work ethic and equally impressive results since joining Wilson Logistics as CFO, assuming many duties and roles above and beyond the scope of a standard CFO role."
Farrell has 16 years of experience in the transportation industry, having worked at JB Hunt Transport Services and Maverick Transportation.
Founded in 1980, Wilson Logistics runs 1,000 trucks supported by terminals in Springfield, Missouri; Missoula, Montana; Pacific, and Yakima, Washington; Portland, Oregon; Tracy, California; and Garland, Texas.