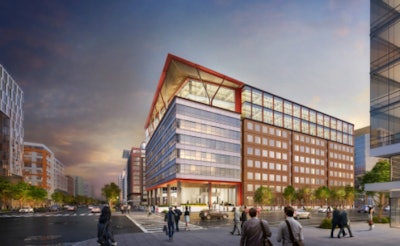 The American Trucking Association plans to move from its current location in the northern Virginia suburbs and into new office space in an expansion of an existing building in Washington, D.C.'s Riverfront District.
The ATA signed a 16-year lease to move its headquarters into 60,000 square feet on two of the new floors at 80 M Street. It plans to occupy its new offices in the summer of 2022, according to a statement from Columbia Property Trust, Inc., which owns the property.
"For 87 years, ATA has been the leading voice of the trucking industry," said Chris Spear, president and CEO of the ATA. "Our decision to return ATA's headquarters to our nation's capital will further amplify that voice and steer decisions that impact trucking. This added presence to our existing Capitol Hill office will take ATA and its agenda to the next level."
ATA's headquarters is currently located in Arlington, Virginia and the association also has an office in Washington, D.C.
The building's complete expansion will consist of two new floors and a penthouse to be built atop the existing 286,000-square foot structure, which is not far from the home stadium of the World Series Champion Washington Nationals.
The project will be the first commercial office building in D.C. to feature mass timber new construction. This building technique relies on a composite wood product engineered from hardwood grown in the Pacific Northwest. It has been recognized as providing structural integrity and fire resistance comparable to steel and concrete construction, but with a lower overall weight load and a lower carbon footprint, according to Columbia Property Trust.