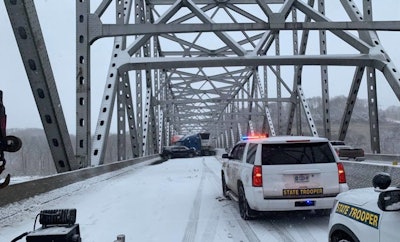 Several trucks were involved in a weather-related pileup Wednesday, Feb. 5 on the westbound Interstate 70 bridge over the Missouri River near Rocheport, Missouri. The crash occurred at about 12:30 p.m. and closed the highway for most of the afternoon.
At least one injury was reported, but no details were given.
The crash occurred as a large winter storm dropped several inches of snow in the area and beyond.
Cattle hauler busted for DUI
Oregon State Police arrested a trucker Monday, Feb. 3, for driving under the influence of intoxicants after receiving several calls from motorists about a truck "that was unable to maintain its lane, driving off the road and into oncoming traffic," according to KPTV of Beaverton, Oregon.
Troopers stopped the truck on eastbound Highway 30 near milepost 32 in Columbia County, north of Portland. OSP reported the truck was hauling 43 head of cattle from California to Washington.
According to OSP, the driver displayed signs of impairment and consented to a field sobriety test, and was subsequently arrested for driving under the influence of intoxicants. A police drug dog located methamphetamine and paraphernalia in the truck's cab.
The owner arranged for a different driver to finish the run to Washington.
Current situation on westbound I-70 at Missouri River Bridge near Rocheport #CooperCounty #BooneCounty #MoWx pic.twitter.com/chu1nY8OAD

— MSHP Troop F (@MSHPTrooperF) February 5, 2020
Current conditions on westbound I-70 at Missouri River Bridge.

Traffic is backed up w/ poor roadway conditions & visibility. We are working to clear the roadway. #CooperCounty #BooneCounty #MoWx pic.twitter.com/O3psKyAdCX

— MSHP Troop F (@MSHPTrooperF) February 5, 2020