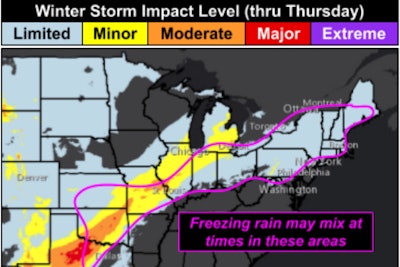 Much of the U.S. is in for a dose of substantial winter weather between now and Thursday evening, and truckers ought to be aware it could disrupt travel plans in some parts of the country.
The National Weather Service and Accuweather report sometimes heavy snows are expected from West Texas to the Great Lakes and the Northeast. As much as an inch of snow per hour is forecast for Texas and Oklahoma starting tonight and on into Wednesday.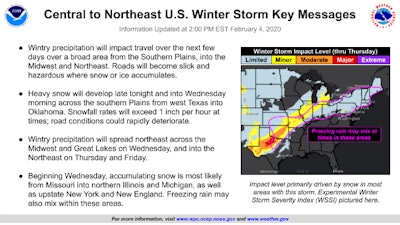 The storm is expected to deliver a wintery mix of snow and some freezing rain across the Midwest into Michigan, Upstate New York, and New England by Friday.
Accuweather warns the storm is expected to cause travel problems along its 1,500-mile-long path, but especially in major metro areas including Oklahoma City, St. Louis, Chicago, and Detroit. Some 3 to 6 inches are possible, raising havoc with afternoon and morning commutes.
"Forecasters say motorists should be prepared for slow, difficult and, in many cases, dangerous travel along portions of interstates 20, 35, 40, 44, 55, 57, 65, 69, 70, 72, 74, 80, 90 and 94," said the latest advisory from Accuweather.
This is part of the same storm that dumped more than 8 inches of snow in Salt Lake City and caused traffic delays and highway closures in Denver and other parts of Colorado.
A the same time, thunderstorms — sometimes severe — are expected tonight through Thursday evening across almost all of the South and Southeast. Some flooding is possible.