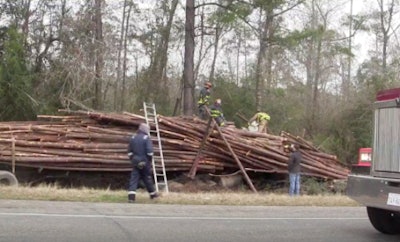 The driver of a truck loaded with logs died in a crash between Buna and Mauriceville in southeast Texas Thursday morning, Feb. 6.
Raymond Marsh, 42, from Nacogdoches, Texas died when his truck went off Texas 62 after striking another vehicle. The Texas Department of Public Safety reports the driver of a 2003 Ford passenger vehicle turned into the path of Marsh's truck, which hit the Ford and then left the highway striking several trees.
The driver of the Ford was not injured. Police continue their investigation.
Driver injured in rollover on Mass Pike
The driver of a tractor-trailer hauling lumber was injured Thursday, Feb. 6, when their truck rolled over on the Massachusetts Turnpike in Wilbraham, about 10 miles east of Springfield.
The wreck occurred at about 5:45 a.m. and snarled traffic for most of the morning.
The condition of the unidentified trucker was not released, and police continue to investigate.