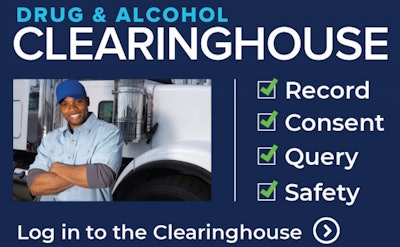 Since going live Jan. 6 and following some early service problems, the Federal Motor Carrier Safety Administration today said results of its Commercial Driver's License Drug and Alcohol Clearinghouse are "encouraging."
A statement from the agency said the clearinghouse has "detected and identified nearly 8,000 positive substance abuse tests of commercial drivers." More than 650,000 registrants are in the clearinghouse database, according to the FMCSA.
"We've seen encouraging results from the Drug and Alcohol Clearinghouse, but there's still work to do to ensure we identify more drivers who should not be behind the wheel," said FMCSA Acting Administrator Jim Mullen. "The clearinghouse is a positive step, and the agency continues to work closely with industry, law enforcement, and our state partners to ensure its implementation is effective."
The clearinghouse was created to identify to the FMCSA and employers drivers who have violated federal drug and alcohol testing program requirements and are prohibited from operating a commercial motor vehicle.
Commercial drivers are not required to immediately register for the clearinghouse but will need to register to respond to an employer's request for consent before a pre-employment query or other full query being conducted. There is no cost for drivers to register.
FMCSA offers tips to drivers about their responsibilities in regard to the clearinghouse.