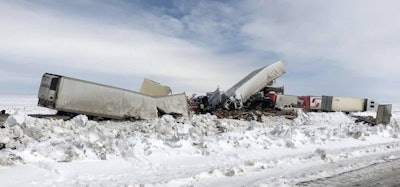 UPDATE: Wyoming Highway Patrol and state Department of Transportation officials now say the massive pileup Sunday, March 1, on Interstate 80 was much larger than originally reported.
It appears three people died and 30 were taken to area hospitals for injuries in what is now being called two separate pileups, one near mile marker 181 and one near mile marker 184 near Creston Junction. Officials also now say dozens of tractor-trailers were involved in the pile-up.
This portion of I-80 is expected to be closed until at least noon Tuesday, March 3.
One official is quoted by The Weather Channel as saying, "With wet snow, cooling temperatures and the wind, it (the interstate) just turns to a sheet of ice."
Our original story:
Numerous tractor-trailers were part of a massive pile-up on Interstate 80 in Wyoming Sunday evening, March 1.
The accidents, which occurred near mile marker 184 between west of Rawlins, closed the interstate in both directions. A post at 5 a.m. local time on Wyoming 511 said westbound I-80 was closed from Laramie to Wamsutter and eastbound from Evanston to Creston Junction.
Few details are available, but numerous social media posts show a variety of tractor-trailers involved and a long line of trucks stopped by the pile-up, which occurred during snowy and blowing conditions.
As many as 50 vehicles, including many tractor-trailers, are said to have been involved.