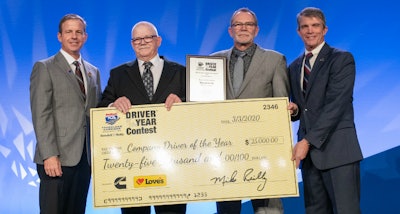 Three IS the charm for one company driver.
Don Lewis, a veteran driver for Wilson Logistics, was on the stage of the Truckload Carriers Association's convention closing awards banquet Tuesday night, March 3, for the driver of the year awards ceremony just as he had been in 2019 and 2018.
But, for the first time, Lewis left the stage $25,000 richer. Lewis, 70, from Republic, Missouri, was named 2019 Company Driver of the Year by TCA and Truckers News. The contest is sponsored by Love's and Cummins, Inc.
The former owner-operator has accumulated 5.7 million safe miles in a career that began even before he was old enough to legally qualify for what then was called a chauffeur's license. A neighbor near the family farm drove a Peterbilt that Lewis as a boy would help polish and eventually got to drive. That was it; he was hooked and hasn't stopped driving since.
After the ceremony, Lewis said his wife of 28 years helped make winning the award possible.
"They say that behind every successful man is a good woman," said Lewis. "That's not true. Like my wife, that woman is beside the man."
Also on Tuesday, Kevin Kocmich of Litchfield, Minnesota, who is leased to Diamond Transportation System, Inc. of Racine, Wisconsin was named 2019's Owner-Operator of the Year by TCA and Overdrive. Love's and Cummins also sponsored that contest.
Runners up for the Company Driver of the Year Award were Robie Jensen of Fremont, Nebraska, who drives for Fremont Contract Carriers, Inc. also of Fremont, Nebraska and Randy Kuryk of Winnipeg, Manitoba, who drives for Bison Transport also of Winnipeg, Manitoba, Canada. They each receive $2,500.
Owner-operator of the year runners up were Jesse Dennis of Springfield, Missouri who is leased to Prime Inc. also of Springfield, Missouri and Robert and Tracy Roth of Coldwater, Ontario, who are leased to Erb International of New Hamburg, Ontario, Canada. They each receive $2,500.
Also on Tuesday night, TCA and its award partner Great West Casualty presented fleet safety awards. This year's grand prize winners were Erb International in the small fleet division and Bison Transport in the large fleet category. It was the second year in a row for Bison's win.
The awards banquet capped off the three-day conference at the Gaylord Palms Resort in Kissimmee, Florida.