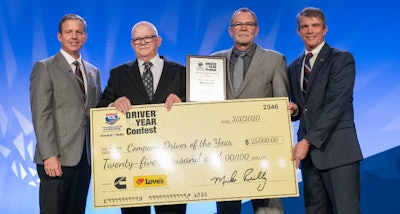 Don Lewis recalls the day during his long career as a truck driver that it dawned on him just how important safety was.
"That actually started from day one, when I started driving professionally," said Lewis, who began driving even before he was of a legal age to do so. "When I was old enough that a company would hire me, I had seen enough up to then to know that this was not a job that you could kind of just be casual about. You had to keep an eye on everybody around you and everything. And I've always put my family first and I've always said I want to return home safe to them."
Living by that outlook allowed this driver for Wilson Logistics of Springfield, Missouri to accumulate more than 5.7 million accident-free miles. It also was instrumental in Lewis being named the 2019 Company Driver of the Year by the Truckload Carriers Association and Truckers News.
For the third time in three years, Lewis was a finalist for the award, which is sponsored by Love's and Cummins. This year he finally walked away with the $25,000 top prize.
After receiving his award at the TCA convention earlier this month in Kissimmee, Florida, Lewis talked about his long career and his relatively simple, common-sense approach to life on the road.
He couldn't recall the man's name, but a boyhood neighbor was a trucker with an impressive Peterbilt that captured the young Lewis' attention. He said he would help the man clean and polish the Pete and went with him on some runs, and even managed some time behind the wheel.
That was it. Lewis' future was set, and at least one person was not pleased it was.
"I told my mother and she started crying," said Lewis. "I said, 'Everything will be alright, mom." And she sat there and she said, 'You have no idea of what the world's like out there.' And I said, 'Well I guess I'm fixing to find out 'cause this is what I'm going to do.'"
And, what exactly did he find out?
"Well I love this industry," he said. "I really do. I've seen a lot of changes and for the most part, I can say that the changes were good. Overall I still love doing it. I'm 70 years old, and you know I still love doing it. I have nothing else to do. 'Cause I've spent the majority of my lifetime in an area smaller than a jail cell."
During his time on the road both as an owner-operator and as a company driver, and while driving solo and at times driving team with his wife, Lewis has hauled a variety of cargo. He started out pulling a flatbed but switched to a reefer to stay busier and earn more. Along the way he hauled a load of cash on its way to be destroyed to human cadavers bound for a medical school.
Today, Lewis says he drives differently than in the past.
"I don't run as hard as I used to," said Lewis. "I've slowed down and it looks like I'm going to slow down a little bit more because my boss told me earlier today I'm getting a different truck. And, I'm going to be doing some regional driving where I'm home more."
It's easy to see Lewis is comfortable with his career and more than pleased with having been named Company Driver of the Year, recognition he said would serve as a "great exclamation point on my career."
And, with the wisdom accumulated during his long career, Lewis offers cautionary advice to anyone looking to get into the trucking industry as a driver.
"In order to make money in this industry," Lewis said. "You're going to miss birthdays, and you're going to miss Mighty Mite Football and you're going to miss Little League. You're going to miss anniversaries. If you can do that and your wife can handle it, remember one thing, you have a family at home that you need to return home safely."