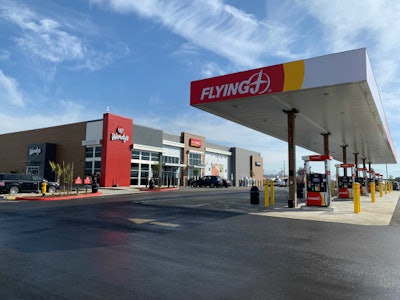 Pilot Company recently opened a new Flying J Travel Center in Fontana, California. It's located at 14320 Slover Avenue, just off Interstate 10.
The new location has:
68 truck parking spots
eight diesel lanes with high-speed pumps
Wendy's restaurant
seven showers
driver's lounge
Fresh-made pizza and grab-and-go food offerings prepared on-site daily
"We are thrilled to officially open our 28th location in California and to bring the convenience, great food and amenities of our Flying J Travel Center to San Bernardino County," said Ken Parent, president of Pilot Company. "Our team is dedicated to providing friendly service and much needed facilities to the area, including 68 truck parking spaces for professional drivers."
In addition to the new store, Pilot is also celebrating Pi Day (3.14, or Saturday, March 14) by offering $5 off whole pizzas March 9-15 through the Pilot Flying J app. All pizzas are extra large (16 inches) and are made in-house to each Pilot Flying J location.