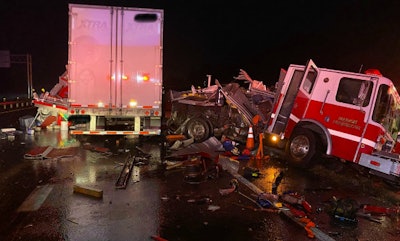 A truck driver and four firefighters were injured Monday night, March 9, when a tractor-trailer and a firetruck collided in northern Arkansas. None of the injuries appear to be serious.
According to a Facebook post, members of the Marion Fire Department responded to an earlier crash on Interstate 55 near the 24-mile marker. The department's Facebook post says they were clearing the scene when they were involved in a crash with the tractor-trailer. No other details were given.
"We were very fortunate that my guys sustained minor injuries," wrote Chief Woody Wheeless. "The driver had minor injuries as well. God was with us for sure."
One member of the fire department reportedly remained in the hospital as of this morning.
Marion is located about 12 miles northwest of Memphis.