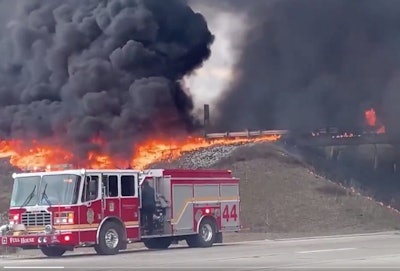 The truck driver whose tanker loaded with 4,000 gallons of jet fuel when it crashed in Indianapolis several weeks ago has died.
Jeffrey "Duke" Denman, 59, of Brownsburg, Indiana died Saturday, March 7, at the Richard Banks Burn Center at Eskenazi Health, in Indianapolis.
Denman's truck overturned on the Interstate 70 ramp near Interstate 465 at about 2 p.m. Thursday, Feb. 20, causing a fire that shut down traffic for several hours. He was driving for Jet Star, which is located in Zionsville, Indiana.
Passing motorists, including a woman who had given birth just two days earlier, stopped to help Denman, who was engulfed in flames.