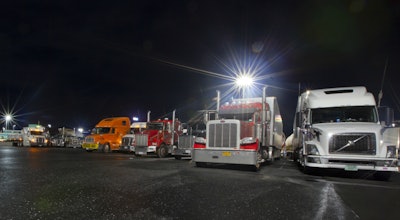 The Federal Motor Carrier Safety Administration Friday night, March 13, issued an emergency proclamation suspending federal hours of service regulations for interstate truckers transporting emergency relief in response to the nationwide outbreak of the COVID-19 coronavirus. The agency said this is the first time it has issued such nation-wide relief.
The announcement came after President Donald Trump announced a national emergency in response to the growing COVID-19 outbreak across the country. Trump's announcement makes some $50 billion available to respond to the health crisis that has canceled numerous trucking events, canceled or postponed numerous national sporting events and led to the closing of numerous colleges, universities, and local schools.
A statement from the FMCSA says:
The U.S. Department of Transportation's Federal Motor Carrier Safety Administration issued a national emergency declaration to provide hours-of-service regulatory relief to commercial vehicle drivers transporting emergency relief in response to the nationwide coronavirus (COVID-19) outbreak. FMCSA's declaration provides for regulatory relief for commercial motor vehicle operations providing direct assistance supporting emergency relief efforts intended to meet immediate needs for:
Medical supplies and equipment related to the testing, diagnosis and treatment of COVID-19
Supplies and equipment, including masks, gloves, hand sanitizer, soap and disinfectants, necessary for healthcare worker, patient and community safety, sanitation, and prevention of COVID-19 spread in communities
Equipment, supplies, food for emergency restocking of stores
Persons necessary for establishment and management of temporary housing and quarantine facilities related to COVID-19
Persons designated by federal, state or local authorities for transport for medical, isolation or quarantine purposes
Personnel to provide medical or other emergency services.
FMCSA said the emergency declaration stipulates that once a driver has completed his or her delivery, the driver must receive a minimum of 10 hours off duty if transporting property, and eight hours if transporting passengers.
Read FMCSA's national emergency declaration.
Motor Carriers and drivers remain responsible for ensuring that drivers are receiving sufficient rest and are not operating fatigued.
The Public Utilities Commission of Ohio Friday, March 13, announced a granting of regulatory relief from the hours of service requirements for intrastate transport of relief supplies, including consumer goods and medical supplies. In a statement, the commission said:
"Motor carriers should be aware that this notice does not absolve them of their duty to monitor their drivers. In addition, this granting of relief is not an exemption from driver's CDL requirements, controlled substance and alcohol use and testing requirements, or financial responsibility (insurance) requirements.
"Drivers utilizing this granting of relief must keep a written or electronic copy of the notice in their truck at all times."
The hours of service suspension is in effect until 11:59 pm, Friday, March 27.
The trucking industry has already seen disruption because of the growth of the coronavirus across the country. The Mid-America Trucking Show scheduled for later this month was canceled, as were several other trucking events and state trucking association gatherings. Officials at major national truck stop companies have said they are stepping up efforts to ensure the health and safety of guests and employees.
Since a coronavirus was first reported in China last December, the disease has spread rapidly. There are now more than 132,203 cases worldwide, and the U.S. has over 1,700 confirmed cases.