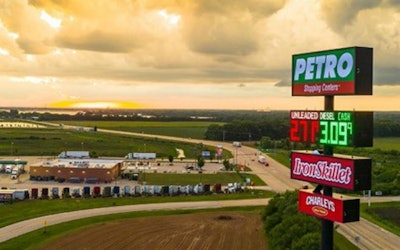 Earlier this week, the role that truck stops play in the trucking industry's and the nation's response to the coronavirus came into sharp focus. The federal government appealed to truck stops to provide the services needed by professional drivers, and that industry's loudest voice said they would.
Early in the week, Federal Motor Carrier Safety Administration Acting Administrator James Mullen sent a letter to NATSO, the truck stop owners trade association reminding them of the role truck stops play.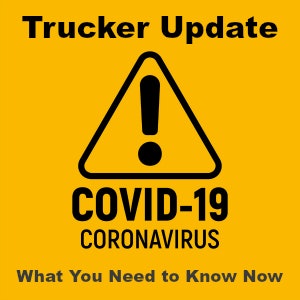 "As the nation comes to grips with the realities of COVID-19, I am writing to let you know that the Federal Motor Carrier Safety Administration recognizes the integral role that travel centers and truck stops play in the Nation's supply chain. All of your members must heed CDC guidelines and follow state and local restrictions. In the coming weeks and months, it will be critical that these businesses remain open, 24 hours per day, providing America's truck drivers with fuel, food, showers, repair services, and opportunities to rest. The continuing operation of America's truck stops will enable truck drivers to confidently transport essential goods, such as food and medical supplies, throughout the country."
At about the same time, NATSO issued a statement saying its members are committed to remaining open amid the COVID-19 coronavirus outbreak to provide food, fuel, and showers to drivers.
"Truck drivers are depending on truck stops and travel centers as they deliver food and life-saving supplies. Our members are committed to doing their part during the nation's response to this emergency," said NATSO President and CEO Lisa Mullings. "As the nation confronts the coronavirus outbreak, the country's travel centers and truck stops are committed to remaining open and serving America's drivers. Fuel retailers are 'essential' businesses that must remain open even if other 'nonessential' businesses are forced to close."
And, here's what's happening at some truck stops and travel centers.
TA Petro
On Monday, March 16, we will temporarily suspend our buffets, soup and salad bar offerings. However, our restaurants will remain open as state and local governments allow and all items on our menus will be available both in the restaurant and as to-go orders. Grab-and-go options are still available at sites.
All fuel lanes are open.
Our showers are open and you can still reserve showers through the app. Our employees continue to use the highest-quality chemicals when cleaning each shower.
We are following individual state mandates regarding closures of full-service restaurant dining. Some states are implementing 50% occupancy caps while others are mandating full dining room closures. The buffets and soup and salad bars in our Iron Skillets and Country Prides are closed, as are some of our dining rooms. Currently, carry-out at all restaurants is still available. You may order online from Iron Skillet ahead of time. Depending on the applicable government mandate, we may have to bring the food out to you. Specific information will be available at the travel center.
Our quick-service restaurants are open. However, you will not be permitted to eat in the dining areas due to mandates as stated above. Depending on the applicable government mandate, we may have to bring the food out to you. Specific information will be available at the travel center.
We are increasing our cleaning frequency and continue to use best-in-class, food-safe cleaners to disinfect and sanitize common touchpoints within the restaurants and travel centers. These include showers, restrooms, registers, doorknobs, tables, menus, chairs, booths, counters, and all dishes, utensils and cooking surfaces.
We have closed our fitness centers and driver lounges until further notice.
For customers that usually use a TA/Petro refillable mug, we ask that you discontinue their use at this time. Please use a disposable cup; you will still qualify for the refill price: just tell the cashier that you participate in the refillable mug program.
Our employees have been advised to take care of themselves and be aware of best practices for preventive safety measures. This includes frequent hand washing and staying home when feeling ill.
Love's
Currently, all our Love's locations are open for customers. To be able to provide the best experience for our customers, we have chosen to continue to provide food service through drive-through and carry out only.
Private shower rooms are still available. We know that this is a valuable service to drivers and will maintain our current procedures to keep this available for our customers. We will continue to monitor the situation and make the changes necessary to help keep our customers and employees safe.
We are asking you to use a new, disposable Love's cup for all refills and a new, disposable Love's cup to pour drinks into your personal mugs/cups.
In accordance with the Illinois Gaming Board's recent suspension of all video gaming operations in Illinois, Love's has temporarily closed 20 game rooms until March 30, 2020.
Pilot
All of our stores are open including fuel islands, showers, and restrooms.
We are currently not experiencing any fuel supply issues at this time.
Our showers are open, and we are cleaning each shower after each use with degreaser, disinfectant, and floor cleaner.
We are closing all self-serve food.
Gaming rooms will be restricted to three participants at a time.
We implemented a fresh cup policy for all refills on Friday, March 13. If a guest would like to use their own mug, we're asking them to use a new cup to transfer their coffee or a fountain drink from the machine into their own mug. They will only be charged the refill price.
Unless desired, drivers do not need to bring their own towels for a shower. We are cleaning guest towels separately from service towels after each use.
We are currently evaluating keeping our driver lounges open. We strongly encourage drivers use social distancing while in our lounges.
Iowa 80 Group
Our housekeeping teams have increased the frequency of cleaning and sanitizing "high-touch surfaces" in public areas including; restaurants, public restrooms, handrails, and cash register stations.
We've asked employees who aren't feeling well to stay home. We are providing extra flexibility and support, if they or their family are affected by the virus.
We will remain open 24 hours. Truckers depend on us as they are working hard to deliver much-needed supplies across the country.
Iowa, North Carolina and Jackson County, Missouri have mandated carry-out only for restaurants, so we are complying with that for our truckstops in those areas.
We are also blocking off seats in our movie theater/TV rooms and implementing the CDC's recommendation of no more than 10 people in the room at a time.