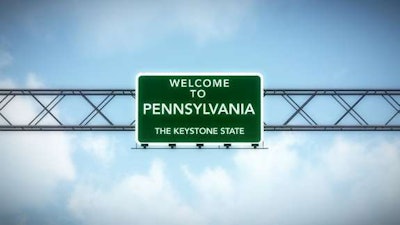 The Pennsylvania Department of Transportation has reopened 13 of its 30 rest areas on interstate highways, locations it says are the most heavily-utilized by truckers. It had previously closed all rest areas and blocked them to prevent any parking.
The reopened locations include:
Interstate 81:
Luzerne northbound/southbound
Cumberland northbound/southbound;
Interstate 80:
Venango eastbound/westbound
Centre eastbound/westbound
Montour eastbound/westbound
Interstate 79:
Crawford northbound/southbound
Allegheny northbound only
In a statement Wednesday, March 18, PennDOT said portable restroom facilities will be available at these locations. Each location will have five portable toilets, including one that is ADA-accessible, that will be cleaned once a day. Electronic message signs will be used to notify drivers near the opened areas.
The department also said, "In order to prevent further spread of COVID-19, we will not be opening any of the indoor facilities because there is no staff to keep them clean and properly sanitized. We will continue to evaluate and will determine whether additional rest areas can be reopened."
Also, earlier this week the Pennsylvania Turnpike Commission announced partial closures to all 17 service plazas, however, they will be rolling back some of those restrictions by Saturday at the latest.
Those changes include:
Indoor bathrooms will be available at all hours
The convenience store will be open at all hours
One restaurant at each location will be open from 7 a.m. to 6 p.m. and will serve a limited take-out menu but all tables and chairs will be removed from the inside of the plazas.