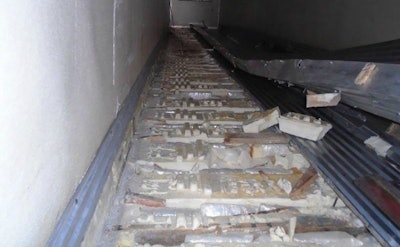 U.S. Customs and Border Protection officers seized almost 700 pounds of methamphetamine at the Nogales, Arizon Commercial Facility last week which was on a tractor-trailer loaded with produce and entering from Mexico.
A statement from the CBP said the seizure contained 690 pounds of meth valued at some $690,000. It is said to be the largest methamphetamine load in Arizona ports history. The 600 packets of meth were hidden in a compartment under a load of tomatoes and bell peppers. It was uncovered with the help of a drug-sniffing dog.
The 34-year-old truck driver, a Mexican national, was turned over to U.S. Immigration and Customs Enforcement's Homeland Security Investigations, according to the CBP.