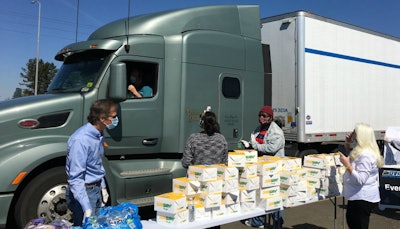 It's often said that "an army marches on its stomach." Likewise, the 1.8 million over-the-road truckers on America's highways need to be, like the rigs they drive, properly fueled if they are to do what's been asked of them. But, finding food on the road has proven to be one of the more disconcerting problems wrought by the COVID-19 coronavirus; one that drivers complain about the most.
As the COCID-19 coronavirus epidemic grew in the U.S, so did the severity of social distancing and the need to keep people separated from one another in public, including the truck stops drivers rely on for most of the basics of life. Dining rooms closed. Self-serve was eliminated. It became take-out only, and social media was flooded with stories of truckers refused service when they walked up to fast food drive-thrus.
A change, albeit a modest one and certainly not one that is perfect, is happening. The federal government had approved allowing states to let independent food trucks to set up at rest areas on interstate highways. While that meets with the approval of truckers, the national organization representing truck stops objects.
On April 3, the Federal Highway Administration issued a notice that allows states to have privately-owned food trucks to set up in rest areas along interstate highways, a practice normally not allowed by federal law. The exception ends when the national emergency declaration ends.
The goal was to increase the opportunities for truckers to get a hot meal.
NATSO, the national organization representing truck stops and travel centers, and other organizations oppose letting food trucks operate in rest areas. NATSO says the trucks will hurt already-struggling local restaurants where truckers could eat.
"Although some state rest areas have closed during the pandemic, private truckstops and travel plazas remain open and are committed to serving truck drivers," said Lisa Mullings, President and CEO of NATSO in a statement. "If there are places where truck drivers are finding it difficult to find something to eat, we don't oppose food trucks at rest areas. This is a national emergency, and we need to explore unconventional solutions. But if food trucks at a rest area hurt local businesses that are already struggling to remain open, professional drivers ultimately will have even more difficulty finding places to eat. They will have fewer food choices if these businesses close, and they will struggle to find showers and parking, too."
At the same time businesses, individuals and organizations are also finding ways to get food to truckers on the road.
On Thursday, April 9, the Oregon Trucking Association handed out 400 box lunches at the Wooburn Port of Entry on southbound Interstate 5.
"Right now, many of us can only sit inside, watch what's happening and wonder how we can help," said Jana Jarvis, president and CEO of the OTA told KATU-TV. "This is just a small way that we can acknowledge the risks our drivers are taking on the frontline and show our appreciation for everything our drivers do to keep things moving."