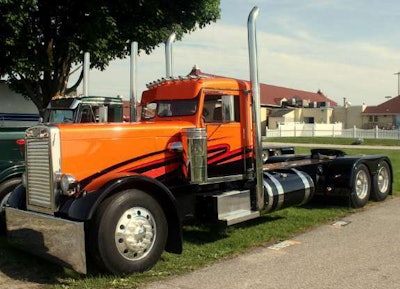 Yet another major truck gathering has had to drastically change its plans as the COVID-19 coronavirus epidemic continues to spread.
The American Truck Historical Society Thursday, April 9, announced to its members that this year's national convention and truck show would not be held at the Illinois State Fairgrounds in Springfield May 28-30 as planned. Instead, it will join the growing number of events, concerts, and meetings held on the internet.
In a post on the organization's website, ATHS Executive Director Laurence Gration said:
"The ATHS Board regrets they will not be able to meet you and shake your hand in Springfield, Illinois, in May, but for the health and safety of all involved, it is simply safer to not meet face-to-face this year. Instead, the 2020 National Convention and Truck Show will be produced and presented ONLINE.
"The world is changing fast, and we all are doing our best to keep up. Staying home. Washing our hands 100 times a day. Social distancing. And just like our forefathers found new and innovative ways to get their trucks to their destinations over near-impossible terrain, this Society is finding new and innovative ways to rise above the current challenges.
"No matter where in the world you're located, no matter your travel restrictions; we're bringing our show to YOU. All you need is internet access and an interest in old trucks. Fantastic convention speakers, the excitement of the awards ceremony, informative meetings and breakout sessions, and of course, the best darn antique truck show in the world! It will all be just a click away."
Gration reminded members the 2021 convention and show is to be held in Harrisonburg, Virginia.
The ATHS cancellation comes on the heels of the Antique Truck Club of America announcing its 2020 National Meet in Macungie, Pennsylvania has been canceled. It was scheduled for June 19 and 20. It said its 50th anniversary show will be held June 18 and 19, 2021.
These are is the latest in a growing list of trucking industry events postponed or canceled by the COVID-19 outbreak. It began with the cancellation of the Mid-America Trucking Show, which was to have been held last week in Louisville, Kentucky.
The National Private Truck Council canceled its annual conference and exhibition, which was scheduled for April 26-28 in Cincinnati.
The Commercial Vehicle Safety Alliance also canceled its annual International Roadcheck inspection blitz, which had been planned for May 5-7.
The 8th annual East Coast Truckers Jamboree held at the Kenley 95 truck stop in North Carolina has been canceled. The next jamboree will be May 6-8 of 2021, according to organizers.
The annual Mother's Day Convoy to be held in Manheim, Pennsylvania May 10 for Make-A-Wish has also been canceled.
The Truck Trailer Manufacturers Association canceled its 78th annual convention, which was scheduled for April 22-25 in San Antonio, Texas.
The American Trucking Associations canceled its National Truck Driving Championships and National Step Van Driving Championships scheduled for Aug. 19-22 in Pittsburgh.